Member Testimonials
Kester N. – Former President at Tennessee Tech University
Tau Beta Pi helped me embrace not only being an engineer but also pursuing integrity and excellence at the heart of everything I do. I have been able to form lifelong connections with countless students outside my discipline and across the nation, and TBP has helped me grow as a leader and has given me so many opportunities that I would have never imagined upon being initiated.
Member Testimonials
Julia W. – Chapter President at the Univ. of Wisconsin-Platteville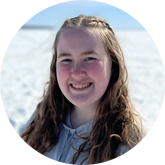 Growing up, I was that kid who always loved math and science, which led me to pursue engineering. Joining Tau Beta Pi allowed me to meet engineering majors with whom I otherwise would not have crossed paths. It also provided me with leadership opportunities and has pushed me to improve my abilities resulting in skills that I can take beyond college.
Member Testimonials
Çağatay Ö. – Chapter President at Old Dominion Univ.
I was born in Turkey, chose to major in mechanical engineering at Old Dominion University, and now I'm doing research to reduce installation and maintenance costs of ocean wave energy converters. Tau Beta Pi gave me a chance to meet and connect with like-minded students and I was awarded a 2021 TBP Scholarship.